Introduction
Keeping our skin hydrated is essential not only for maintaining its beauty, but also for keeping it healthy. Choosing the right moisturizer is the key to successful skin care. Dark skin has different dermatological needs than white skin, and you need to consider these needs as you are shopping through the great range of body lotions you will find on the market.
I struggled for many years to find the best skin care products for my skin type and I decided to ask dermatologists and try those products that match the needs of my skin. During this process I learned a lot about the needs of black skin and how important it is to find a lotion that addresses them. Keep reading as this complex guide will help you find the best body lotion for black skin and give you essential information on choosing such a product!
The specific needs of black skin
Black skin tends to be oilier than other skin types, which can lead to acne and other skin issues. African American have a lower level of ceramides and a higher level of sebum than white skin. Ceramides are waxy lipid molecules that help retain moisture in the skin, giving it a plumb look, so skin poor in ceramides will also need a more potent moisturizer.
The increased sebum level also makes black skin more oily, while at the same time, the ceramides make it prone to dehydration.
Furthermore, black skin has distinct characteristics that differentiate it from other skin types. The outermost layer of black skin is thicker than that of white skin, which makes it more resilient to environmental factors such as sun damage and pollution. However, it also makes black skin more prone to certain skin conditions, such as acne, hyperpigmentation, and ingrown hairs. Despite its thickness, black skin can be sensitive and easily irritated by certain ingredients in skincare products
In addition, black skin has a higher concentration of melanin, which provides natural protection from the sun but can also lead to uneven skin tone and dark spots.
Research indicates that black skin may lose moisture at a faster rate than certain lighter skin tones. To prevent an ashy appearance and counteract this effect, it is recommended to apply a daily moisturizer containing humectants such as glycerin or hyaluronic acid.
According to a Pond, the use of moisturizers can help improve the appearance of hyperpigmentation in black skin
Ingredients to look for in a lotion for black skin
It's important to choose a lotion that contains moisturizing ingredients that cater to the specific needs of black skin. Below are some of my
Humectants, such as glycerin or hyaluronic acid, help draw moisture from the air and retain it in the skin, improving hydration and reducing the appearance of fine lines and wrinkles
Natural oils and butters, such as shea butter and coconut oil, provide nourishment and protection for the skin, improving its overall health and appearance
Vitamins (A, C, and E), antioxidants (green tea extract and vitamin C), and alpha-hydroxy acids (glycolic acid) can improve skin tone, texture, and protect against damage from environmental stressors
Shea butter has been shown to improve skin hydration and protect against damage from free radicals
Ingredients to avoid in a lotion for black skin
While certain ingredients can be beneficial for black skin, others can be harmful and may exacerbate existing skin issues. When choosing a lotion for black skin, it's important to avoid the following ingredients:
Alcohol: Alcohol can be extremely drying and can strip the skin of its natural oils, leading to further dryness and irritation. It can also disrupt the skin's barrier function, making it more susceptible to damage from environmental stressors (1).
Fragrance: According to Contact Dermatitis., "Sensitive skin was associated with exposure to scented products and with fragrance allergy". Fragrances can be irritating to the skin, especially for those with sensitive skin. They can also cause allergic reactions, leading to further inflammation and irritation (2).
Sodium lauryl sulfate (SLS): SLS is a harsh surfactant that is often found in cleansers and body washes. It can be extremely drying and can strip the skin of its natural oils, leading to further dryness and irritation (3).
Parabens: Parabens are preservatives that are commonly found in skincare products. According to Elle, they have been linked to hormone disruption and have been shown to have negative effects on the skin's microbiome, which can lead to skin irritation and inflammation (4).
By avoiding these ingredients and choosing a lotion that is formulated with gentle, nourishing ingredients, you can help to improve the health and appearance of your black skin.
These features make choosing the right moisturizer challenging but possible. And to make your journey easier, I gathered the best moisturizers on the market!
The best body lotions for black skin
The following body lotions are ideal for black skin as they nourish and keep it hydrated without side effects. I made sure to include hypoallergenic products and lotions for skin types with specific conditions and I am confident that you will find what you need in this list!
1. Necessaire The Body Lotion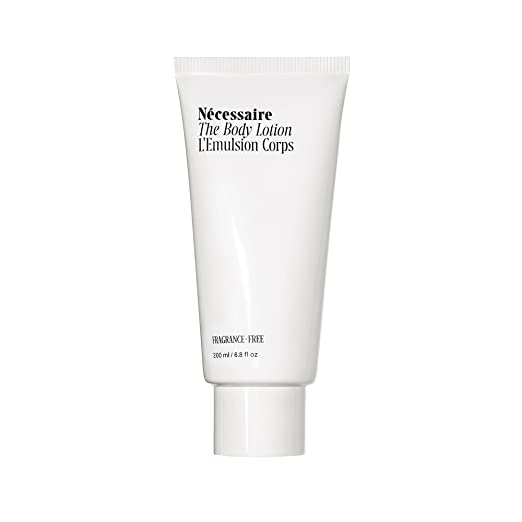 Necessaire is one of the best body lotions to look at to nourish, hydrate and moisturize your dark skin. I used several of their products and I had to put this brand on the top of the list because it is rich in all the ingredients you want for your skin's nourishment.
Necessaire contains vitamin B, also known as Niacinamide which is efficient against sebum excess, acne, and skin spots. Vitamin B is also anti-inflammatory and moisturizes your skin without irritating it. Niacinamide is a great ingredient to look for in face lotions as it reduces fine wrinkles and improves elasticity, and it has the same benefits for the rest of your skin.
Glycerin is another important ingredient in this body lotion. This ingredient is a very efficient humectant that will not irritate your skin or make it greasy. Glycerin helps with skin conditions such as dermatitis and also calms the skin.
Among other ingredients that you will find in this lotion are Peptides, which are amino acids that we can find in the skin too. They support collagen production, making the skin more elastic and reducing fine wrinkles. Necessaire body lotion is also rich in marula fruit seed oil, meadowfoam seed oil, and jojoba oil, which are antioxidants and reduce inflammation while nourishing and keeping your skin moisturized.
This lotion will absorb fast into your skin; it is fragrance-free and hypoallergenic. I use this for several years now and I never experienced a side effect from it which is why I am confident in its safety.
Type of skin:
Ideal for all types of skin, including sensitive skin.
Jullie Mills on Amazon said:" This is what you're looking for to moisturize your body and hands. Silky smooth not greasy finish. AND it keeps moisturizing. I've spent SO MUCH money on other products that advertise that they do. THIS ONE DOES! And a little dab will do ya!"
2. Paula's Choice Weightless Body Treatment 2% BHA, Salicylic Acid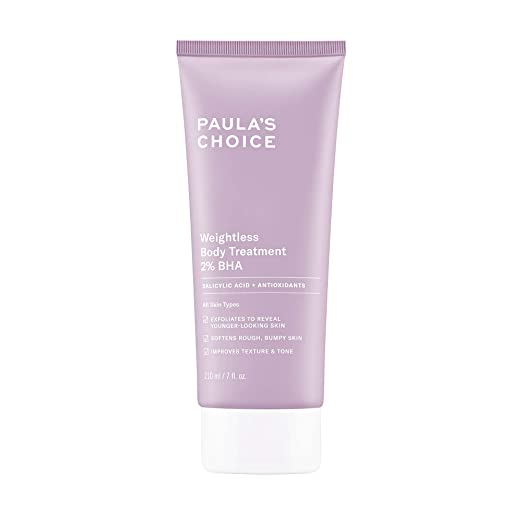 Paula's Choice body treatment is a perfect exfoliating lotion for black skin and a necessary treatment for healthy and glowing skin. This lotion contains salicylic Acid and other ingredients that will help nourish and soften your skin. A concentration of 2% Salicylic Acid is ideal for black skin because it will help calm the skin during exfoliating.
Besides the Salicylic Acid, this body lotion also contains Butylene glycol, a very efficient humectant that hydrates your skin and leaves it soft. This ingredient is also great for reducing acne.
Another moisturizer in this lotion is Dimethicone, a non-comedogenic silicone. It helps the skin stay hydrated and gives it a beautiful, healthy glow.
This body treatment will be lighter than other lotions meant to nourish and moisturize the skin. For this reason, it will help you use it with a moisturizer to complete the hydrating process.
You will also find natural ingredients in this body treatment, such as Chamomile extract and Willow-herb extract. These ingredients bring important anti-inflammatory and antioxidant benefits and keep the skin hydrated during exfoliation.
It is a fragrance-free and paraben-free lotion, suitable for skin prone to keratosis pilaris.
Types of skin:
Oily skin, dry skin, mixed skin. Also suitable for sensitive skin, but remember that it is not hypoallergenic.
Marricely, a buyer gave her review on Amazon:"If you suffer from hyperpigmentation and razor bumps in your inner thighs or the back of your thighs- this product will not only rejuvenate, but it will also clear your skin and lighten up the area. I love this product!"
3. Eucerin Intensive Repair Essential Oil Balm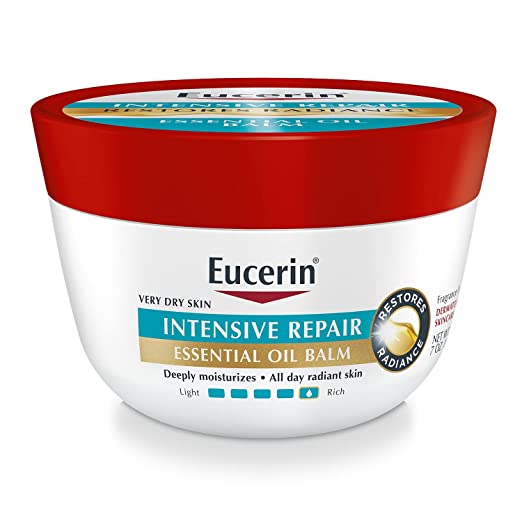 If you have dry skin, this body lotion might be just what you need to bring it back to its natural glow. I used to get dry skin especially during the winter season and every time I went back to this product to fix the problem. This fragrance-free and alcohol-free lotion is perfect for repairing your dry skin, and it is rich in plenty of plant oils that will nourish and fortify your skin.
This body lotion is rich in urea, an important humectant that hydrates skin. It calms irritated and inflamed skin and supports other ingredients to penetrate the skin, making the entire product more efficient. Urea also makes this body lotion efficient in treating dry skin on the feet, elbows, and other body parts.
Glycine is also an ingredient that helps lock moisture in and keep the skin hydrated for longer. It also supports the production of collagen and helps repair the skin. Glycide is also an amino acid naturally found in the skin.
Among the oils in this lotion are castor seed oil, sunflower seed oil, and shea butter. These ingredients help tone the skin, offer protection against UV rays, keep it moisturized, and even fight age. They are rich in vitamin E and keep the skin well-moisturized throughout the day.
Types of skin:
It is alcohol-free, which makes it ideal for dry and very dry skin, as it contains no ingredients that could irritate your skin.
Melissa on Amazon said: "I have sensitive skin. I'm 45. Sensitive skin. I slug with this. You literally need a tiny bit because it warms to your body and slides off. Doesn't block my pores. I wake up with baby skin. Smells a little minty but not overpowering."
4. CETAPHIL RESTORADERM Soothing Moisturizer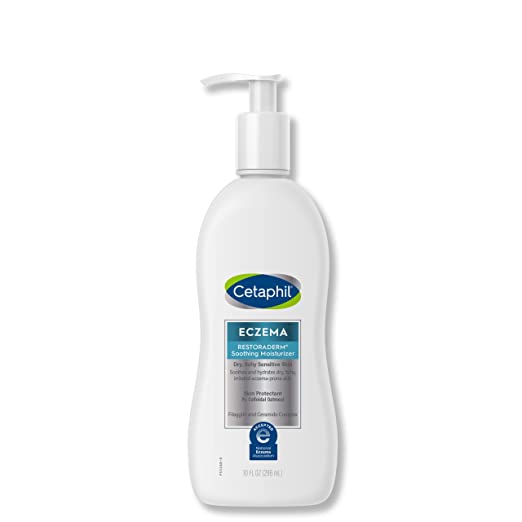 Cetaphil Restoraderm is a great soothing moisturizer if your black skin is prone to develop eczema and other skin conditions such as acne or irritated areas. It is a great lotion for dry skin that has itchy tendencies, as it helps soothe and heal it. And we know that the worst thing to do to itchy skin is scratch it so, instead of making it worse, use this treatment and you will get the moisturizing you need too.
This lotion is alcohol-free, fragrance-free, hypoallergenic, and recognized by the National eczema association. It contains ingredients already found in the skin and hydrating ones that help heal and moisturize the skin.
Besides glycerin which you will find in similar products, this lotion is also rich in ceramides. With black skin deficient in ceramides, a lotion that balances them will only be beneficial. Ceramides are identical to those found naturally in the skin, decreasing as we age. This body lotion helps bring the ceramides level in the skin to where it is supposed to be, reducing wrinkles and increasing hydration.
The Colloidal oatmeal in this lotion will also help calm and soothe your skin, especially if it is dry, rough, irritated, or itchy. It helps keep your skin's pH balanced and has important anti-inflammatory properties. Plus, this colloidal adds a layer of protection to your skin, keeping allergens and irritants away.
Allantoin and d-panthenol will help moisturize your skin, increase collagen production, and even help heal scars or wounds.
Types of skin:
Dry skin, itchy skin, and skin that is prone to eczema.
D. Atkin on Amazon said: "I've probably experimented with well over a dozen brands for eczema on my fingers and knuckles. They have had varying degrees of success, but none have been great. This is the only product I have used that has consistently kept my skin from flaring and cracking since I started using it. It's expensive, but worth it".
5. CeraVe Moisturizing Cream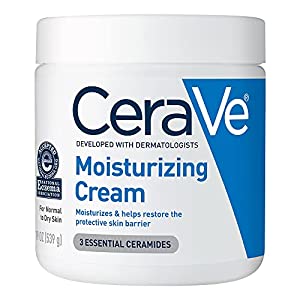 CeraVe is one of the most well-known moisturizers as it is perfect for all kinds of skin but particularly for black skin due to its soft, hydrating features. It is ideal for skin healing due to irritations, eczema, or other skin conditions, including acne.
The National Eczema Association also recognizes this body lotion, and it contains no alcohol, artificial fragrance, or any other irritating chemicals.
This CeraVe body lotion is rich in glycerin, ceramides, and petrolatum, which helps rehydrate dry skin and treat rashes. Petrolatum is ideal even for sensitive parts of your body, and it blends well with the rest of the ingredients, which makes the body lotion very efficient.
CeraVe is also rich in hyaluronic Acid that helps moisturize the skin, reduces aging signs, and leaves the skin soft and glowing. Also, the ceramides in this lotion are strong enough to show results in only four weeks by increasing your skin's ceramides level.
It is ideal for your body, face, hands, and feet and will help restore the natural skin barrier and protect your black skin against external irritants.
Types of skin:
All skin types are particularly efficient for dry skin prone to eczema and itchiness.
Eimear Mc on Amazon said: "I can't say enough about this holy grail product! For years I've struggled with mild eczema and have tried so many products that promise but fail to deliver what CeraVe does. Some products actually irritated my skin further but not CeraVe. It's fragrance free which I like and dries in quickly but the best thing is that my skin feels the benefits for days after one application! Honestly, it doesn't even feel like my skin it's so soft and dry patch free! Will keep buying this holy grail product!"
6. L'Oreal Paris Skincare Daily Liquid Care Hydra Genius Moisturizer

L'Oreal doesn't disappoint with this skincare lotion as it didn't disappoint with many of its products. This daily liquid care moisturizer is exactly what you need to take care of your delicate, black skin.
Its most important ingredients are hyaluronic Acid and aloe water. It hydrates your skin thanks to hyaluronic Acid but also eliminates excess sebum, a common struggle for people lacking skin.
Its almond scent makes it very pleasant, and you can use it on your body and face. It is ideal for a long-lasting moisturizing effect, lasting up to 72 hours on the skin.
Among its ingredients, you will also find glycerin that supports the hydrating process and helps your skin regain its natural glow.
Types of skin:
Suitable for all skin types, especially oily skin and mixed skin. It can also work great for dry skin, but it must be applied twice daily to see the effects.
Terre Christian on Amazon said: "I am a cosmetition. I've used the best. I have combination skin. This is lightweight, feels cool on the skin; but does the job. Try it!"
7. Aveeno Daily Body Moisturizing Lotion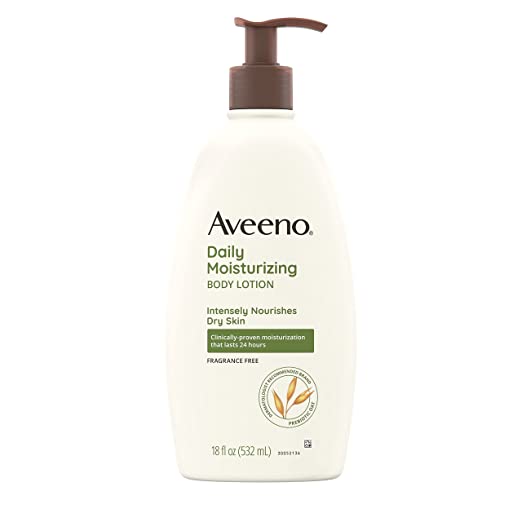 Aveeno Daily Body Moisturizing Lotion is one of the best body lotions for black skin and can help soothe and heal dry skin. It is affordable, easy to find in stores, and moisturizes your skin for 24 hours.
The Aveeno Daily moisturizer is free of parabens and alcohol, and it is unscented. It is not greasy and will absorb into your skin in seconds, making it perfect for all times of the day. You can also apply it locally on certain areas of your body prone to dryness.
The prebiotic oat is a perfect ingredient for nourishing and healing dry skin. It helps lock moisture in so your skin will remain hydrated for longer. It is also a great lotion to prevent dry skin and irritation.
This body lotion is not greasy and will absorb quickly into your skin, leaving it soft and nourished. It is also non-comedogenic and perfect for incorporating into a daily skincare routine.
Types of skin:
It is ideal for dry and sensitive skin thanks to its gentle formula that will not cause any irritation.
W, a buyer said on Amazon after using this product: "I have tried cheap and expensive lotions of all varieties and this is the only one that worked. All the hand sanitizer during 2020 and forward completely destroyed my hands. I tried everything, even sleeping with bag balm and gloves and nothing worked until I tried this stuff! It works immediately and does not leave your skin feeling greasy."
8. O'Keeffe's Body Lotion and Moisturizer for Skin Repair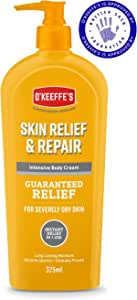 O'Keeffe's Body Lotion and Moisturizer is ideal for skin repair and will offer your skin the hydrating it needs for up to two days. It is a lotion that lasts the most and repairs your skin deeply.
The texture of this cream is thicker than other body lotions, so you will have to apply only a small quantity of it, and it will have extensive coverage. It is absorbed fast, and your skin should be replenished in minutes once you put this lotion on. Despite its thick texture, this lotion is not greasy and will leave your skin soft.
The O'Keeffe body lotion contains shea butter, giving it a natural, pleasant scent. It is also rich in glycerine, urea, and other active ingredients that nourish and hydrate even the driest skin.
You can use this lotion even on skin affected by eczema or highly sensitive skin. Thanks to its hypoallergenic formula and fragrance-free ingredients, you will not have to fear any side effects.
It is approved by the British Skin Foundation and clinically tested to eliminate possible side effects.
Types of skin:
Ideal for dry and itchy skin that needs intense hydration. If your skin is mostly normal or oily, but your feet are dry, you can use this lotion locally only on the feet or other dry areas.
CJ gave their review on Amazon after using this product: "I have hard water where I live and my skin is always dry and itchy after a shower. I've tried every lotion and natural oils out there, this has been the only thing to immediately moisturize and stop the itching. I only have to use it about twice a week, my skin stays moisturized. Hands down the best!!"
How to use body lotion
Applying body lotion is an important part of your daily skincare routine. Just like you take care of your face, you need to offer the rest of the skin on your body the nutrients and moisturizing ingredients it needs to look healthy.
The best time to apply body lotion is after a shower because the warm water helps open your pores and allows the lotion to penetrate the skin more easily. I noticed that the moisturizers are much more efficient when I apply them after a shower!
Gently pat your skin with your shower towel but don't get it dry before applying the body lotion. If you dry your skin out, it will become tight and will not allow the body lotion to penetrate it.
Apply the body lotion all over your body and wrap yourself in the towel afterward for a few minutes. This will give your skin time to absorb and replenish the body lotion. Most body lotions will absorb rather fast, so you can get dressed soon after that and feel much refreshed!
Final thoughts
Choosing a body lotion suitable for your skin type is crucial if you want to see the results you aim for. All the products have the ingredients and the type of skin they are designed for on their wrapping, so check that and look for a product that is made for your skin type and needs. Also, note that you must be patient to see long-lasting results. Body lotions and face wash are delicate with the skin, and it will take up to four weeks of regular use to see significant improvements.