Introduction
Hair extensions are a popular way to add length, volume, and texture to your hair. Whether you have clip-ins, tape-ins, or sew-ins, extensions require extra care to keep them looking their best.
Hair extensions can add incredible beauty to your hair but can also look dull, dry and prone to breakage if you don't care for them properly(because the extensions do not receive the same natural oils from the scalp as your natural hair does). Adding oil to your hair and extensions has excellent benefits that keep your hair healthy and looking its best. Hair oil can provide nourishment, hydration, and protection for both natural hair and extensions. Choosing the correct type of oil that will match your hair and hair extensions is essential to enjoy all the benefits.
According to a study by Int J Trichology, hair oils are effective in reducing hair breakage and improving the overall health of hair strands. Hair oils work by penetrating the hair shaft and nourishing the hair from the inside out. They also create a protective barrier that helps to prevent damage from environmental stressors like UV rays and pollution.
After wearing hair extensions for a long time, I learned to take care of them in the same way I take care of my natural hair and it makes all the difference. I gathered a selection of the best hair oils for extensions to start incorporating into your hair care routine and see incredible results. So, keep reading to find everything you need to know about these oils and how to use them the best!
Why do you need to apply oil on hair extensions?
Regardless of the type of extensions you have (synthetic or natural), using oil on them will make all the difference. I tried both these main types of hair extensions and I saw benefits in applying oil on both of them. Natural oils hydrate your hair, and the hair extensions are made of natural hair too. Also, it will add shine and resistance to synthetic and natural hair extensions.
Most likely, your hair extensions are well-mixed into your natural hair, so they must receive the same haircare routine. You want your hair extensions to feel and look like natural hair; you must treat them the same to obtain that.
Best hair oil for extensions
The following oils are suitable for all types of hair extensions, and they will nourish your hair and give it the shine you want. After trying several products on the market, I understood that natural oils are the best for all types of hair as long as you use them correctly.
1. Jojoba Oil by Leven Rose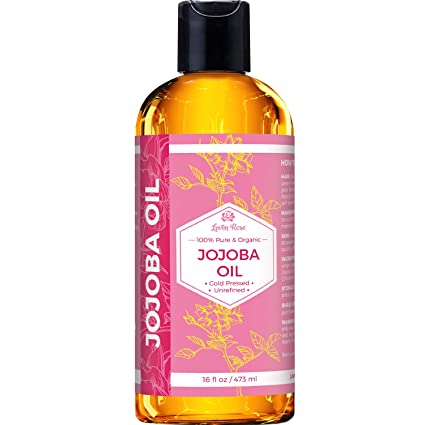 Jojoba oil has many benefits to human hair. This natural oil is similar in texture to the oil produced by our scalps. It can help to keep extensions looking healthy and shiny, while also nourishing and protecting the hair. Jojoba oil is also non-greasy and fast-absorbing, making it a great option for extensions.
Leven Rose offers an excellent jojoba oil for hair extensions that you will also fall in love with. Your extensions will look as beautiful as your natural hair, and you can enjoy them longer if you regularly apply this oil.
All the ingredients in this Leven Rose oil are natural and organic. You will not have to worry about adding toxic chemicals or artificial fragrances to your hair. Also, thanks to its 100% natural ingredients, you can use this oil to nourish your skin and nails besides your hair extensions. It is perfect for both natural and synthetic extensions as well as for treating your hair.
This oil nourishes hair in the same way that the oil produced by your scalp does, which is even more critical for your extensions since they don't benefit from that scalp oil.
Your hair extensions will not be dull and lifeless once you use this jojoba oil. It will strengthen them, too, so they will break slowly. And if you have natural hair extensions, you will find this oil easy to absorb and will not leave your hair greasy after you apply it.
This oil is cold-pressed, meaning it is richer in vitamins and doesn't lose nutrients. It is the perfect oil for all hair types, and your extensions will look more natural than they ever did!
How to use this oil
Apply this oil to the length of your hair extensions and give it half an hour or more to be absorbed. After 30 minutes, rinse your hair or wash it with your regular shampoo.
You can also use jojoba oil as a hairstyling product, especially if you plan to use hair tools with heat. If your hair acts rebellious after you wash and dry it, tapping it with a few drops of jojoba oil will help tame it down and nourish it at the same time.
Why I like this oil:
I try to find products with natural ingredients and this one was right down my alley. The fact that it is suitable for all types of hair extensions is also a plus since you might change your extensions several times but you will not have to change the hair care oil.
I used this product to hydrate my skin and my nails too and it was just as efficient. And it applies easily, absorbs easily and brings a pleasant, natural scent.
One reviewer, D.S, on Amazon agreed with me:"Has no odor, good for the skin, good for the hair before shampoo, after being at the beach, also removes make up. It absorbs quickly".
Why I wouldn't recommend this oil:
It is not hypoallergenic so you have to make sure you don't have some type of allergic reaction to it. Try it out on a small part of your hair to see if there are any side effects.
2. Moroccan oil Treatment Hair

Another excellent oil treatment for your hair extensions is this Moroccan oil, which will be ideal for nourishing and protecting your hair against breakage and damage. It will leave your hair extensions soft and give them a healthy, natural look that everyone will admire.
Among the most critical ingredients in this oil are vitamin E, antioxidants, essential oils, and fatty acids. All these ingredients will nourish your extensions and prevent them from being dry and dull. They will also add the same benefits to your hair, giving it a shine and soft texture you will love.
The argan oil in this hair treatment will give your extensions luster and strength and is ideal for damaged hair.
You will notice that this hair treatment oil absorbs very fast into your hair extensions, so you don't have to worry about obtaining a greasy look. It is ideal for all hair types and, therefore, all extensions.
The Moroccan oil treatment will also protect your hair extensions against heat and styling products, so applying it before any hairstyling steps is recommended.
How to use this oil
You can apply this oil treatment on dry and wet hair, and it will absorb just as well. Apply it on the length of your extensions and leave it in to dry naturally, or use a hairdryer. You don't need to rinse or wash your hair after you use this treatment. I enjoyed this oil mostly as a leave-in treatment as I didn't have to worry about rinsing it.
You don't want to apply this oily treatment on your roots because this might cause a greasy effect. Your scalp oils naturally nourish your roots.
Why I like this oil:
It was very useful for me to be able to apply this oil on both dry and wet hair and that it is so easy to use in hairstyling. The fact that this product is rich in argan oil and other natural ingredients only brought benefits to my hair extensions.
Caroline Armstrong, a buyer on Amazon gave their review:"My hair loves this product! I'm really happy with it. I put it in my damp hair and it softens and moisturises it, and it reduces frizz. And you only need a little of it so the bottle lasts a long time."
Why I wouldn't recommend it:
I found this oil to be greasier than other hair oils which might not be ideal for those who already have oily hair.
3. Viva Labs #1 Organic Extra Virgin Coconut Oil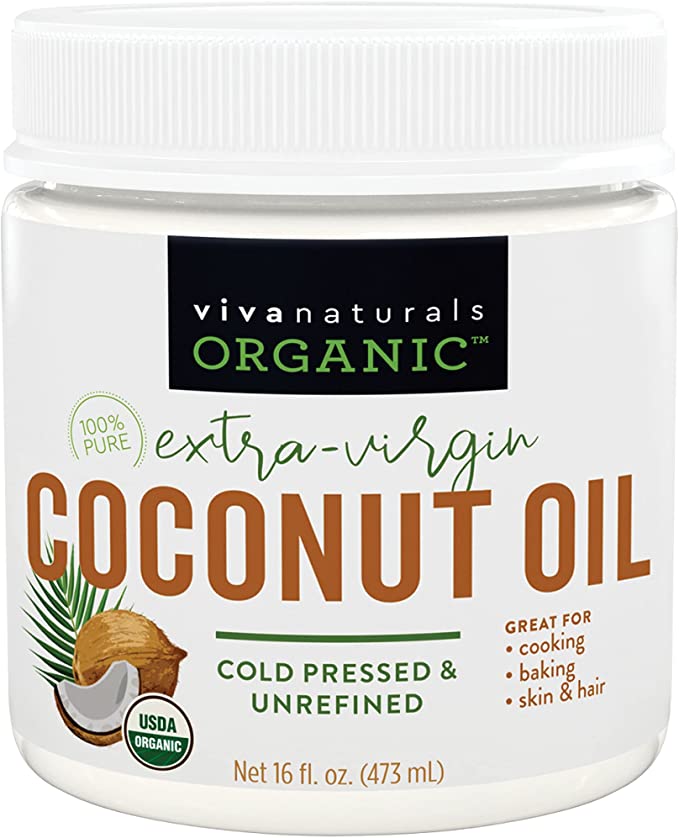 Coconut oil is a miracle of nature in both skincare and haircare, bringing the same great benefits to your hair extensions. It can help to prevent tangling and breakage in extensions, while also providing a healthy shine. Coconut oil is also a natural antifungal and antibacterial agent, which can help to keep extensions clean and healthy.
But not all coconut oils are equal, and you want to use a natural product that contains no additives and nourishes your hair.
The fatty acids in the Viva Naturals Coconut oil make it very efficient in hydrating your hair extensions. After applying this oil, you will notice that your hair extensions are softer and gain more luster, feeling much like your natural hair.
If you have dull or damaged hair and want to repair it a bit, know that coconut oil is rich in protein, which helps strengthen the hair and hair extensions. This is especially beneficial if you are dying your hair extensions or using hairstyling tools.
You can use coconut oil on all hair types, and it also acts as an excellent natural sunscreen. This product is USDA certified, and it contains no GMO ingredients.
How to use this oil
Comb your hair to ensure it is not entangled before using this Viva Naturals Coconut oil. Warm up a teaspoon of coconut oil in your hands before you apply it to the length of your hair extensions. This oil comes in a solid form, like butter, but it will melt very fast in contact with the heat of your palms.
Give the coconut oil minimum of 30 minutes to do its miracle for your hair extensions and wash your hair. After applying coconut oil, you want to wash your hair with a mild shampoo and use conditioner too.
Why I like this oil:
Every time I used this product, I was charmed by the coconut scent and I used it as part of both my hair care and skin care routines. It is highly hydrating and the organic ingredients make it safe for all kinds of hair.
Elaine Clarke gave her review on Amazon after using Coconut Oil on her hair:"I never knew coconut oil could be used in hair. First time I tried it, I left it in for 5 minutes. I used it again this morning and left it in for 20 minutes, while drinking a cup of tea. Shampooed it out and my hair is really nice and soft. Feels really good. I will do the 20 minute moisturizing one again in a couple of weeks. I haven't tried this brand of coconut oil in cooking yet."
Why I wouldn't recommend this oil:
While this oil turned out to be very efficient in hydrating my hair, it was also more difficult to wash out. So unless I spent some good minutes rinsing my hair, I would have greasy hair and I found that to be an important downside for me.
4. ORS Olive Oil Incredibly Rich Oil Moisturizing Hair Lotion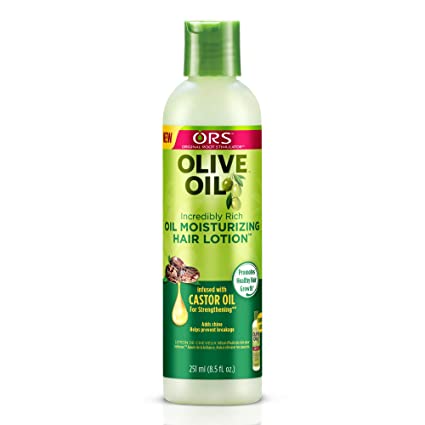 Olive oil is one of the best oils in your kitchen, and it can significantly benefit your hair extensions. This highly nutritious oil will hydrate your hair extensions as it will hydrate your hair and skin. Olive oil help increasing hair elasticity which also aid in preventing split ends on your hair extensions.  
Olive oil brings a lot of minerals, squalene, oleic acid, vitamins, and nutrients to your hair. The essential fatty acids will moisturize your hair extensions profoundly and give them the natural look you love. You will see results very fast once you incorporate them into your hair care routine.
This particular ORS olive oil is also infused with castor oil, making your hair extensions stronger and less likely to break. Not to mention the beautiful shine your hair will get after the first time you use this treatment.
This oil treatment is perfect for all kinds of hair so that it will work great for all extensions.
How to use this oil
Olive oil is very versatile and can be used in various forms. It works great as a leave-in oil if you apply it on your hair extensions and allow it to get absorbed. You can use it as a pre-shampoo treatment by applying it on your hair 20 minutes before you wash it. And you can also use it as a styling product, especially if you want that shiny hair after you straighten it with the hair iron.
Why I like this oil:
I could find this oil in almost all stores, including during my traveling trips and at affordable cost. And I like the versatility of olive oil that can replace any type of moisturizer in times of need. It contains plenty of minerals and vitamins to nourish all types of hair and it can keep the skin hydrated just as well.
Marilyn Morrisette really liked this product after she tried it, read her review about Olive oil on her hair on Amazon:"I honestly love it super thick smells great does what it supposed to do I love my hair because of it nothing else has my hair super soft and straight"
Why I wouldn't recommend this oil:
As this oil is greasier than others, I don't recommend it for scalp or roots unless they are extremely dry.
5. Organic Castor Oil By Sky Organics

Sky Organics offers an excellent castor oil to treat hair extensions with all the necessary nutrients. Castor oil is perfect for strengthening weak or damaged hair extensions and gives them a beautiful shine.
Castor oil is perfect not only for nourishing hair extensions but also for supporting hair growth. It increases blood circulation at the scalp level, which will also help your natural hair grow stronger and healthier.
This oil is a natural humectant, an efficient moisturizer that will fortify and hydrate your hair extensions to prevent breakage. Your extensions will not break or get entangled; you can comb them more manageable. However, castor oil is thick and heavy, so it's best used in small amounts and applied to the ends of the extensions.
The Sky IOrganics castor oil is cold-pressed, containing all its nutrients to nourish your hair extensions deeply. And you can use this oil on all types of extensions as it is also suitable for all hair types.
How to use this oil
You can use this castor oil as a treatment which means you apply it all over your hair extensions from the roots to the entire length. Give it 30 minutes to work its magic before you wash your hair.
It is also an ideal treatment to apply before using hair iron as it protects against heat. Using this castor oil after you style your hair will give it a natural shine and fortify your hair extensions.
Why I like this oil:
I appreciated that this oil contains only natural ingredients and it is cold-pressed so it is richer in nutrients than other products. It was easy to use every time and I recommend it for all hair types.
One buyer on Amazon gave a great review after trying this oil on their hair: "This castor oil is amazing. I have type 3c hair and over the last year my curls have started looking and feeling really dehydrated and frizzy. I just used this as a hot oil treatment and left it on my hair for around 2 hours – the difference it has made is unbelievable. My curls look as though I've had a big chop and started again, soft, springy and hydrated. Ten out ten. It's a bit pricier than other organic castor oils but worth it in my opinion"
Why I wouldn't recommend it:
It is thicker than other hair oils and might be more challenging to wash. Even so, I noticed that if I just rinse for a few more minutes, it is worth it as this is still a very beneficial oil.
How to choose the best hair oil for extensions?
When looking for the best hair oil for your hair extensions, certain factors will help you choose exactly the one you need! I never choose a hair product without checking for the following aspects first!
Ingredients
The ingredients in your hair oil treatment should be 100% natural. The oils mentioned above are highly efficient in nourishing hair extensions and your hair. They leave your hair extensions shiny and healthy but strengthen them so they will not break easily. And since your hair extensions don't have roots to gain that strength from the scalp oils, offering them the nutrients they need through natural oil treatments is crucial. It is also essential to choose products that contain no alcohol. Using a hair treatment with alcohol can dry your scalp and even give you skin reactions that are difficult to treat.
Absorption
No one wants greasy hair, even if the greasiness comes from a natural and beneficial oil treatment. The rate at which hair oil is absorbed into the hair is another important factor to consider. Look for oil treatments that absorb fast inside the hair extensions while offering them the necessary nutrients. The ideal hair oil for extensions should absorb quickly and evenly, without leaving any residue or buildup. Hair oils that are formulated to be easily absorbed into the hair are more effective at improving the condition of the hair. Very dry hair extensions could use a greasier oil because they need more hydration. But most extensions will react perfectly to all the top five oils mentioned in this guide.
Hair type
Hair extensions come in different hair types, so you must use products that match their needs. It is imperative to know the hair type of your extensions and get extensions made of the same hair type as your natural hair. Doing so will help you care for your hair extensions better and more efficiently. While the products in this guide match all kinds of hair and extensions, you can find products on the market that cover a more specific hair type, such as fine or oily.
Effects
Before choosing what oil treatment you need for your hair extensions, decide what results you want. Each product lists the results you can expect, such as stronger hair, more shine, essential nutrients for hair growth, etc. Knowing what you expect from an oil treatment will help you choose the best one for your needs.
Usage
How you use the oil treatment on your hair is also crucial in your decision making process. If you want a leave-in oil treatment, choose one that will absorb fast and efficiently into your hair extensions. If you use it before styling your hair extensions with heat tools, you need one that offers protection. Also, if you want to use your hair treatment before washing your hair, you can choose a heavier one since you will wash it off.
FAQs
Are all hair extensions compatible with hair oil treatments?
Hair extensions made from natural hair are perfectly suitable for hair oil treatments. However, synthetic hair extensions come with their specifications. You will find these specifications on the manufacturer's website, and if you have your extensions put on at a salon, ask the hairstylist how to best take care of them at home.
How often should I use a hair oil treatment on my hair extensions?
You can use hair oil treatments weekly or every two weeks. The frequency you choose will depend on the state of your hair extensions. For damaged or dry hair extensions, you want to use oil treatments every time you wash them.
Can natural oils damage hair extensions?
Natural oils that contain no other chemicals and are alcohol-free will not have any adverse side effects on your hair extensions. But even so, trying every new product you use on a small part of your hair extensions is recommended to see how they react to it.
Final thoughts
Remember that taking care of your hair extensions is just as important as taking care of your hair. You want to give them the nutrients they need and ensure they look as good as possible. On top of that, your hair extensions need help from products like those mentioned in this guide to stay strong and resist the damage of any kind. One of the top five hair oil treatments will offer you the results you want to see quickly. Once you find a product that works well for your hair extensions, try sticking to it, as consistency is also a key element in maintaining the beauty of your hair extensions for a long time.